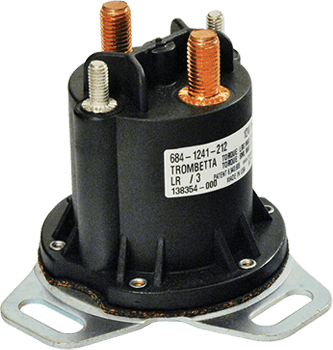 The PowerSeal family includes the intermittent and continuous duty versions of this product; each is utilized in their own distinct market spaces. Both the Intermittent and Continuous duty PowerSeals are certified for RoHS, REACH and Conflict Mineral Free.

Intermittent Duty
Carry Current 150 Amps, Inrush 800 Amps
Available in 12 or 24 Volts
The power you need for high amperage applications along with the sealed construction gives the PowerSeal its name. The PowerSeal's unique design gives it the longevity to last and be used in the harshest environmental conditions. Intermittent duty PowerSeals are used on hydraulic power packs, RVs, heavy truck starting and grid heaters, and lawn and garden applications.

Continuous Duty
Current 150 Amps, Inrush 800 Amps (depending on voltage and design)
Available in 12 volts, 15 volts, 24 volts, 36 volts, and 48 volts
The Continuous Duty PowerSeal is the first contactor designed specifically for electric vehicles and applications requiring resistance to tough environmental conditions. The environmental seal is the centerpiece of the optimized design for higher performance and lower cost.